[ad_1]

Whether you want to become a web designer from scratch or improve your skills, earning a web design certification helps launch your career and establish credibility with potential clients or employers.
However, choosing the right course might be time-consuming since so many options are available.
In this article, we will discuss the ten best web design certification courses, including their key features, drawbacks, and prices.
What to Look for in a Web Design Certification
When searching for web design courses, consider the following aspects:
Learning materials – check whether the course accommodates all the needed materials for your goals and skill level. For example, learning the HyperText Markup Language (HTML) and Cascading Style Sheets (CSS) fundamentals might be suitable for web design beginners, whereas learning Bootstrap might be more beneficial for advanced students.
Price – ensure that the course fits your budget and provides the best value for money.
Reviews – read online reviews to discover a course's pros and cons.
Training programs or mentorships – find out if there will be dedicated web designers to guide you in achieving your goals.
Top 10 Web Design Certification Courses
Based on the criteria, we've compiled a list of the top ten web design certifications suitable for every user.
Without further ado, let's begin.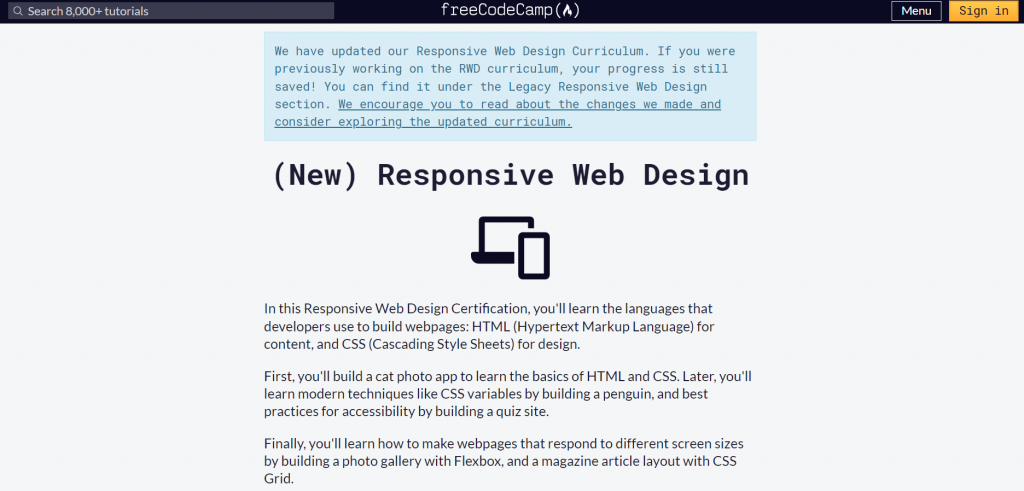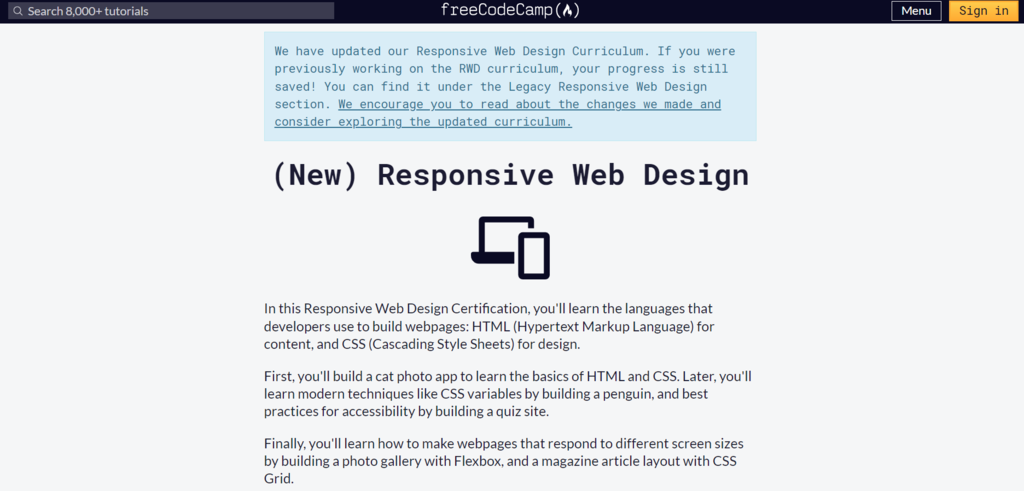 Responsive Web Design stats:
Price: free
Length: 300 hours
Topics: basic responsive design, accessibility, and typography
FreeCodeCamp is one of the best free learning platforms for web developers. It also offers a responsive web design certification that can help you learn about markup languages like HTML.
Moreover, this course will give practical tasks in each lesson, such as building a cat photo app. As a result, you will be able to design a website that is interactive and responsive on any device.
You can also earn a web design certification by building your own portfolio website, making it an excellent option for freelancers to improve their qualifications.
Key Features
Interactive learning – each module offers thousands of hands-on practices with instructions.
Basics – you will gain fundamental HTML and CSS knowledge.
Free certificate – while some online courses charge extra for earning web design certifications, freeCodeCamp will give them for free.
Cons
The platform interface might not look appealing compared to others.
Not suitable for advanced learners.
[SIGN UP]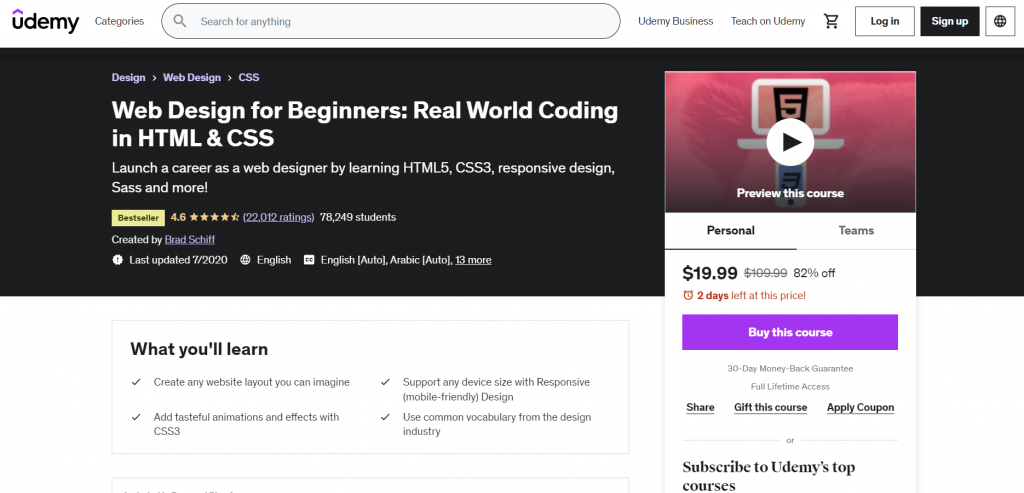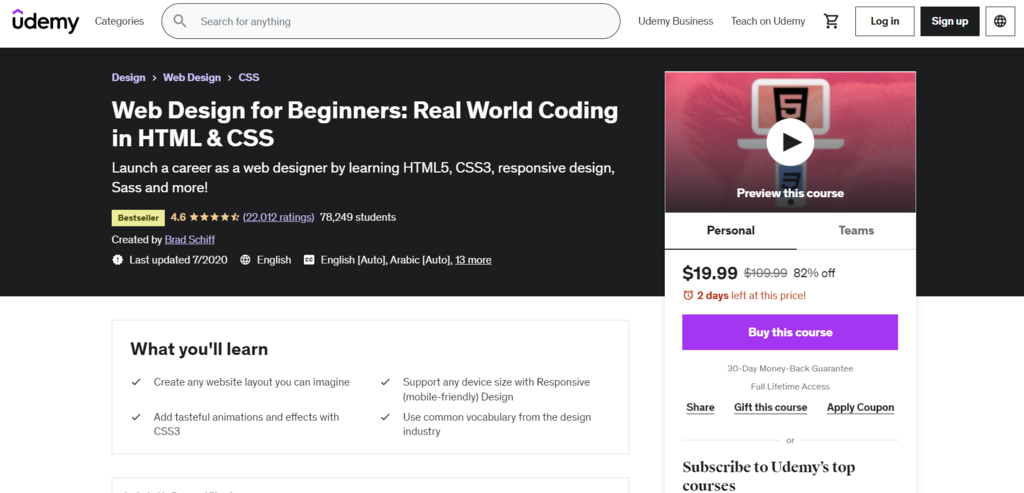 Web Design for Beginners: Real World Coding in HTML and CSS stats:
Price: $19.99
Length: 11 hours
Topics: HTML5, CSS3, JavaScript, Bootstrap, and responsive design
As one of the most popular online learning platforms, Udemy provides plenty of various courses. Through its online web design course, you'll be able to learn how to implement HTML and CSS as well as create a mobile-friendly site.
This course comes with 71 modules, from HTML essentials to intermediate CSS. The modules consist of ten minutes to one-hour videos.
Many top companies, such as VW and NetApp, use this online course to improve their employees' web design skills. Once they've completed the course, they can get a certificate.
Furthermore, Udemy offers a 30-day money-back guarantee if you're unsatisfied with the program.
Key Features
Full lifetime access – read learning materials whenever you want.
Downloadable resources – save learning materials on your devices.
Comprehensive learning materials – learn all the necessary web designer skills, from creating an HTML file to leveraging JavaScript code.
Up-to-date information – it is suitable for every web designer, from a beginner to an advanced learner.
Multi-options fee payment – pay monthly or make a one-time payment.
Cons
All courses are premium and only offer seven days of a free trial.
[SIGN UP]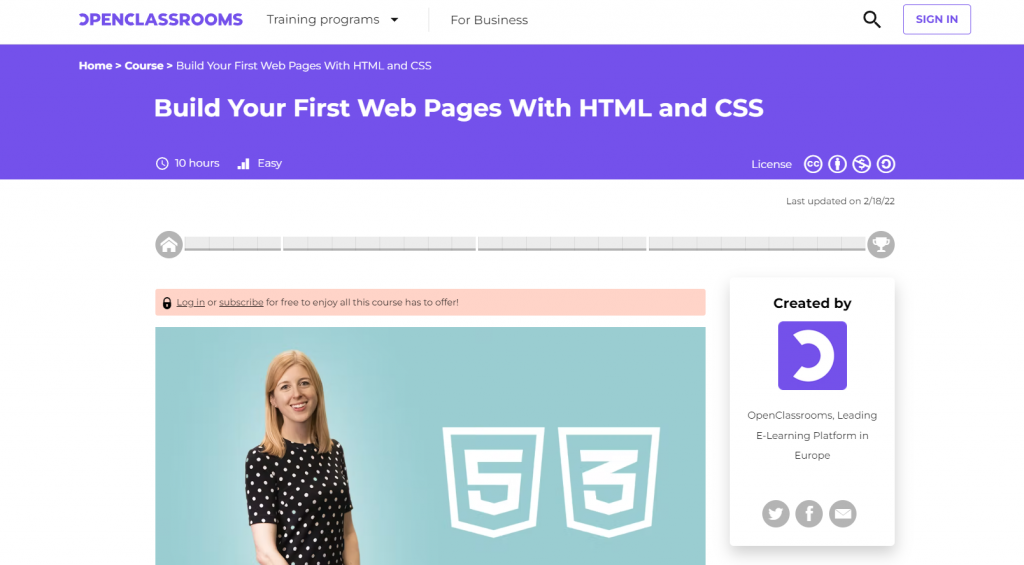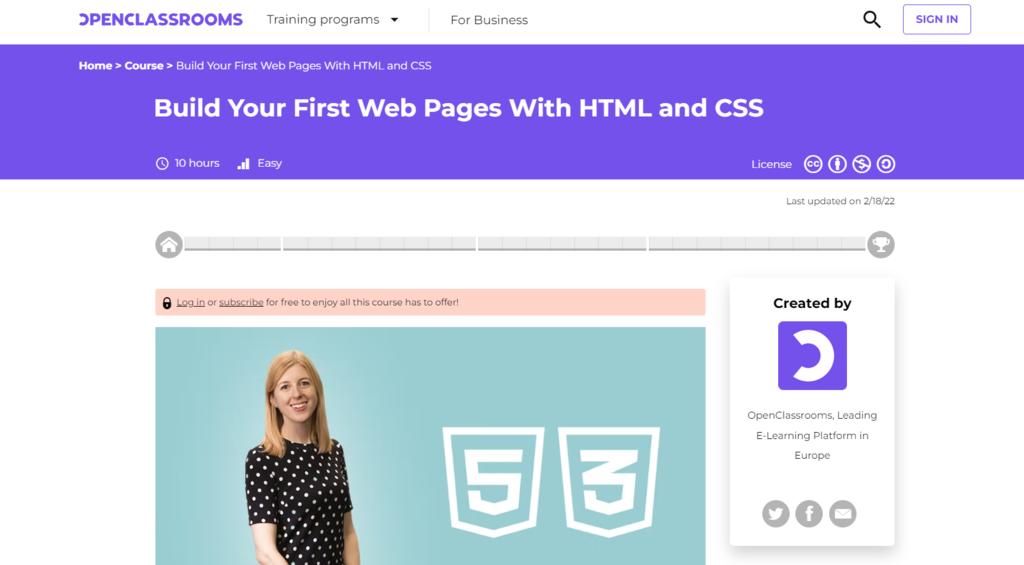 Build Your First Web Pages With HTML and CSS stats:
Price: freemium
Length: 10 hours
Topics: HTML5, CSS3, HTML and CSS syntax, HTML structure, and color theory
One of the leading online learning platforms in Europe, OpenClassRooms offers a broad range of courses and a big online community. As a result, you will be able to discuss with experts and fellow students online.
This web design course has four sections of learning materials, from the introduction to programming languages to creating HTML text elements and customizing your content with CSS. In each part, there'll be a quiz to review the materials. Moreover, you will learn to apply correct syntax and see how different pieces of code work in practice.
To enter this program, you don't need programming skills as you will learn on the go by using online code editors like Notepad++, Sublime Text, and Ultra Edit. OpenClassRooms also offers the Paths programs to help you start a career by learning in-demand skills with real projects and mentorship.
Moreover, it has a money-back guarantee for students who can't find a job within six months after finishing the course.
Key Features
One-to-one mentoring – discuss any challenges you have with your mentor during weekly online video chats.
Real-world projects – learn the most relevant skills by finishing real projects.
Diploma training program – get an accredited web designer qualification and find a new career path with a mentor's assistance.
Good learning basic materials – cover all the relevant subjects for web designers, including setting fonts and colors and understanding the block and inline elements.
Cons
Its free option comes with limited features, such as not being to download the video lessons.
Premium plans can be costly, from $20 to $300/month.
[SIGN UP]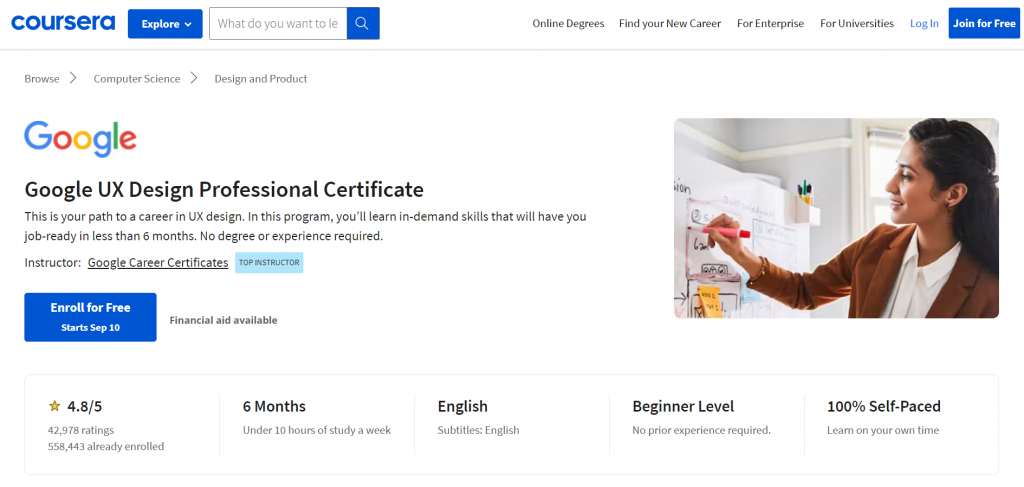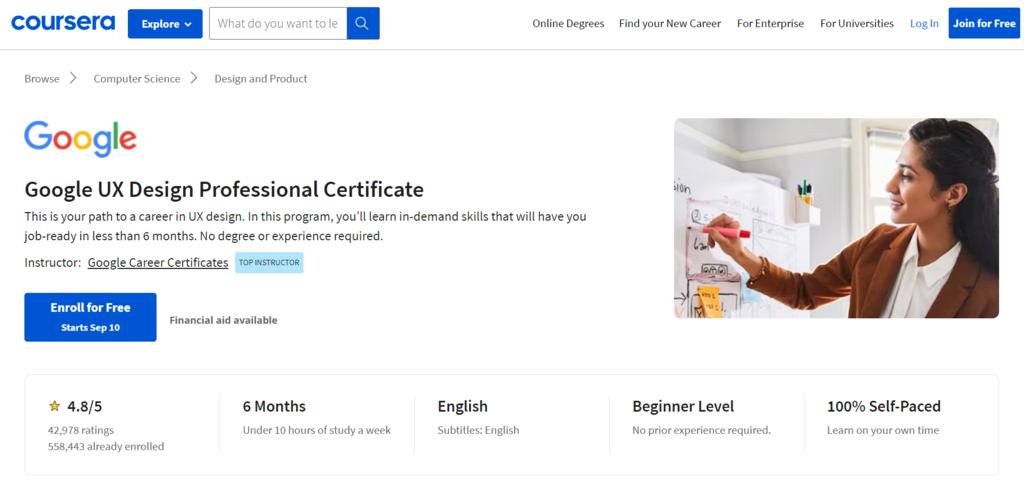 Google UX Design Professional Certificate stats:
Price: $39/month
Length: 6 months
Topics: essential user experience (UX) research and its concept, and UX design process
Another popular e-learning platform, Coursera, partners with many prestigious universities and top companies. As a result, you can find over 5000 online courses and degrees to boost your career.
The Google UX design professional certificate is suitable for those who want to learn UX design and start a career in this field.
You will learn how to create a design that can enhance user interactions with products, such as apps or websites. For example, you'll learn how to identify users' pain points, create wireframes and prototypes, and test designs.
Furthermore, the program offers seven courses and hands-on projects to help you build your portfolio design, enabling you to showcase your capabilities to potential clients.
Key Features
Financial aid – it's possible to get financial assistance by filling out an application and writing a motivation letter.
Design tools – learn to use popular web design tools like Figma and Adobe XD.
Top instructors – enhance your skills by learning from Google experts.
Networking opportunities – connect with over 150 employers in the USA.
Cons
You will have to pay a membership fee to get a certificate.
[SIGN UP]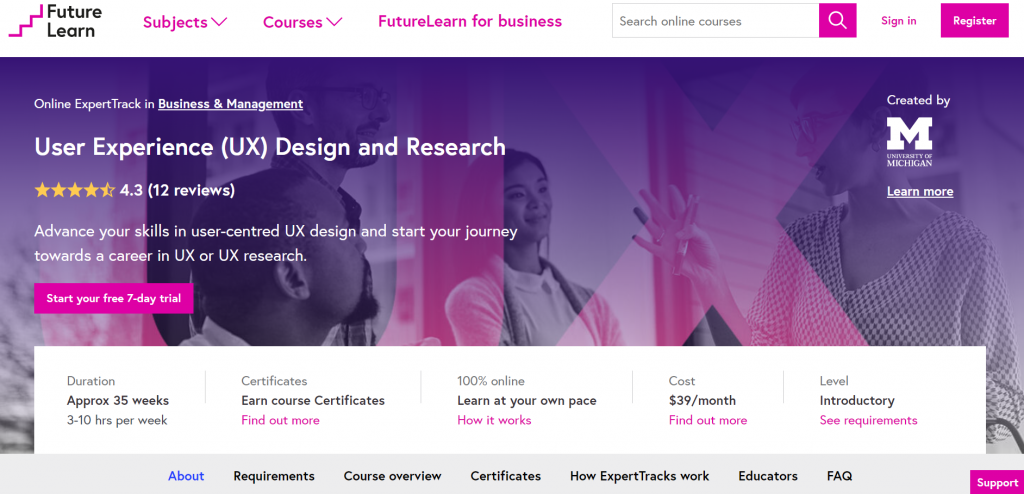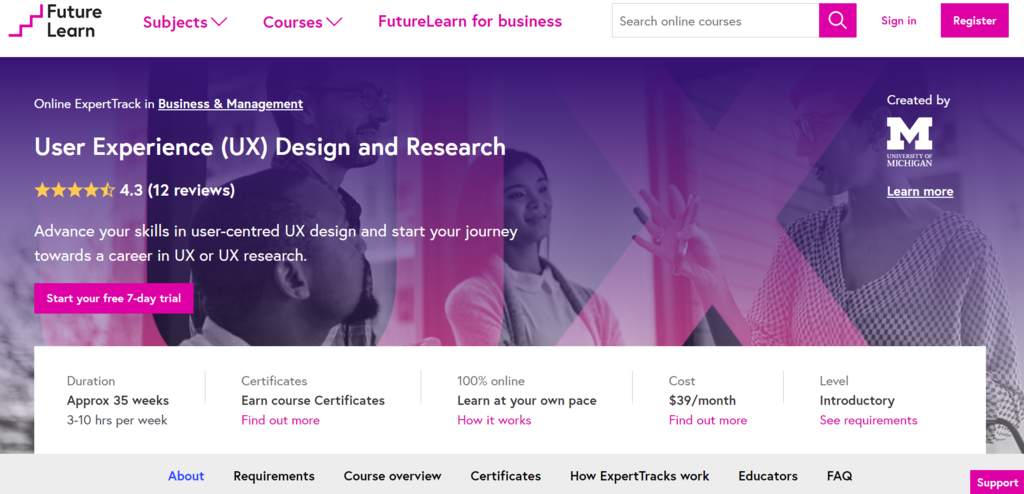 User Experience (UX) Design and Research stats:
Price: $39/month
Length: 9 months
Topics: UX design and research techniques, UX prototyping, and UX design principles
FutureLearn offers UX design training programs to help students become professional UX researchers. This course was created by the University of Michigan, which is known as a leading educational organization for its research, learning, and teaching experience.
In this course, you'll learn the UX design fundamentals and how to analyze users' needs using different methods, including surveys, interviews, and tests.
FutureLearn also provides various learning resources, such as videos, articles, and audio. It can help learners to study with more enthusiasm and avoid monotonous learning. Furthermore, this web design course has a global classroom where you can share ideas or socialize with other students.
Additionally, ExpertTrack ends with a capstone project to help you implement all lessons to build a product design.
Key Features
Progress page – keep track of your accomplishments and assessment scores.
Multiple tests – improve your knowledge by completing tests after each module.
Lifetime access – read the courses' content even after the subscription ends.
Digital certificate – get a certificate validated by a top university.
Cons
It focuses on UX design and research processes without offering additional courses on web development skills.
No free version, only a seven-day free trial.
[SIGN UP]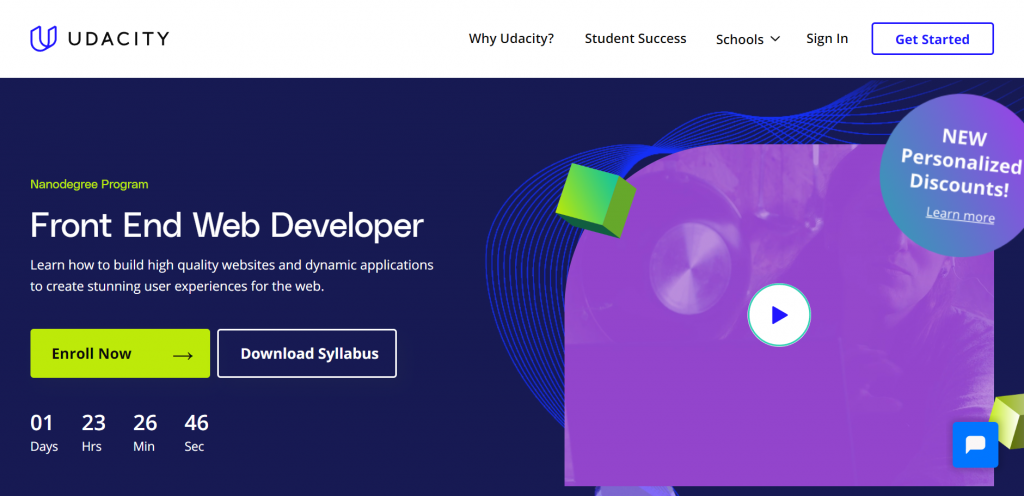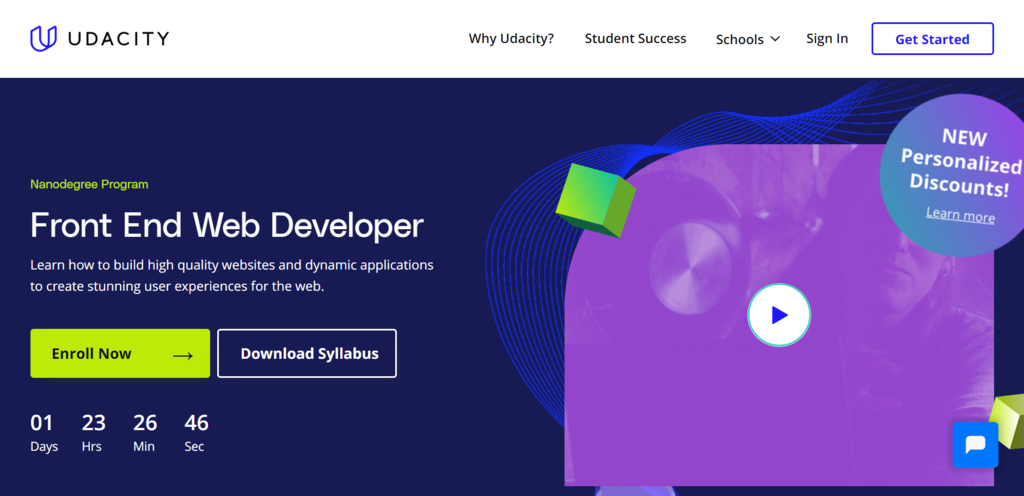 Front-end Web Developer stats:
Price: $399/month or $1356 for four-month access
Length: 4 months
Topics: advanced responsive web designs, flexbox, JavaScripts and the document object model (DOM), web APIs, and automating build tasks
Udacity is an e-learning platform specializing in developing digital skills, from data analytics to web design and development. With its Nanodegree program, users can build specialized skills based on projects and receive a certification afterward.
This course helps you understand how to build websites using the CSS grid, flexbox, and responsive design. Moreover, you will learn to create interactive websites and UI applications using JavaScript and HTML.
There'll be a project assignment for users in each lesson, from creating styled blog websites and dynamic landing pages to developing web applications. You will also get feedback from experts.
In addition, Udacity offers a flexible plan that lets you learn at your own pace, making it suitable for those who have tight schedules.
Key Features
Career services – get access to Github portfolio reviews and LinkedIn profile optimization.
Student community – take advantage of many networking opportunities worldwide to boost your career and learning.
Professional projects – develop in-demand skills with projects from industry experts.
Technical mentor support – get answers to your questions from professionals.
Cons
Might not be suitable for beginners.
More costly than other programs.
No free plan, only a seven-day free trial.
[SIGN UP]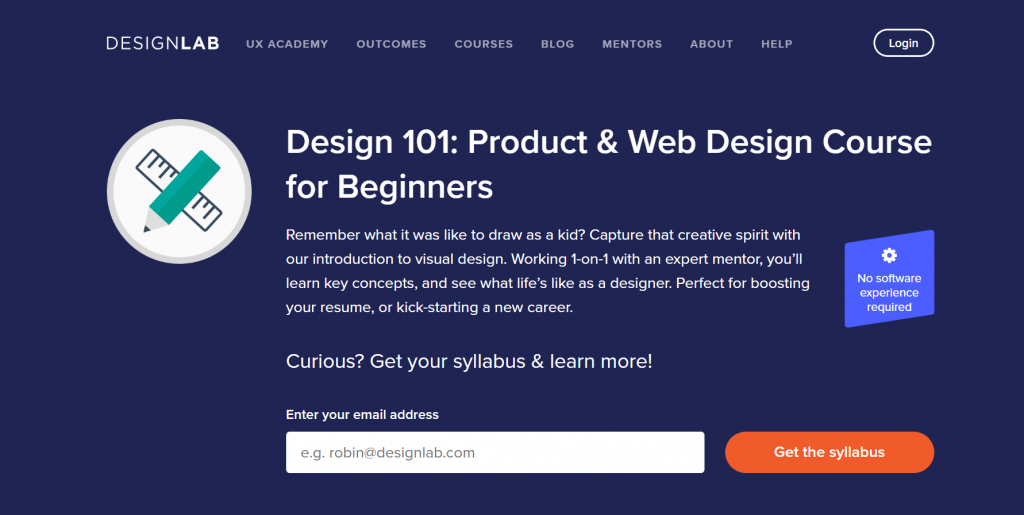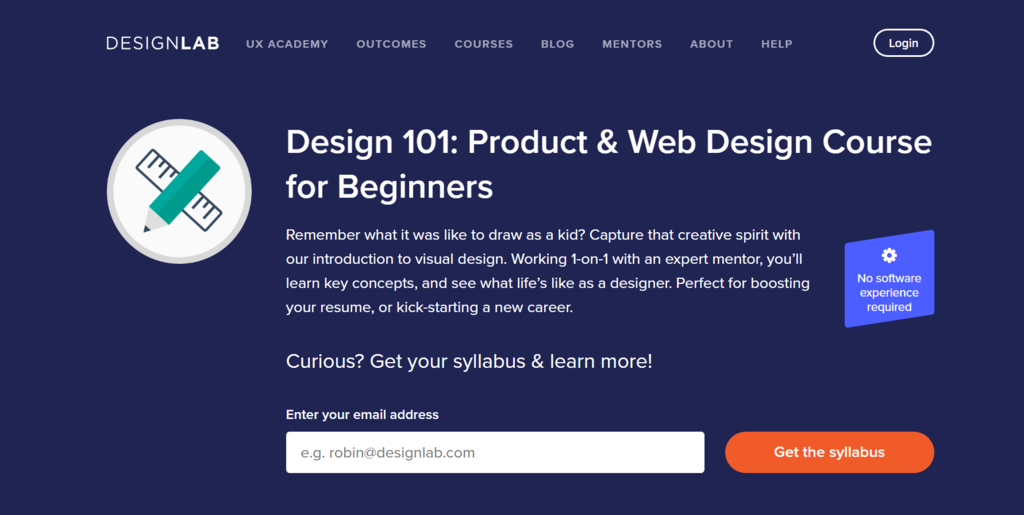 Design 101: Product & Web Design Course for Beginners stats:
Price: $399
Length: 4 weeks
Topics: design process, color theory, typography, and common UI pattern
Designlab is an online learning platform that offers UX and UI design courses for all student levels. It has two programs – the foundation program for beginners and the UX academy for experienced web designers.
The Design 101 course is suitable even for those unfamiliar with web design software. Through this class, you'll master basic graphic design principles like sketching, hierarchy, and imagery and implement them on websites or web applications.
Furthermore, many graduates from Designlab get an opportunity to work in industry-leading companies, such as Microsoft, Adidas, Facebook, and Accenture.
Similar to most online learning platforms, you can complete the course with a flexible schedule. Furthermore, Designlab offers a 50/50 payment plan that allows you to pay half up front and the rest by the end of the program. If you want to move on to the advanced course or the UX academy, you will get a $150 credit.
Key Features
One-on-one session with a professional mentor – discuss with a professional designer related to your projects and receive personalized feedback.
16 hands-on projects – build a great portfolio and hone your skills.
Certificate of completion – share your web design certifications online to showcase your project work.
Money-back guarantee – cancel the course anytime and get a refund if you're unsatisfied with the class.
Cons
Costs more than other certification programs.
Doesn't teach basic coding for web development skills.
[SIGN UP]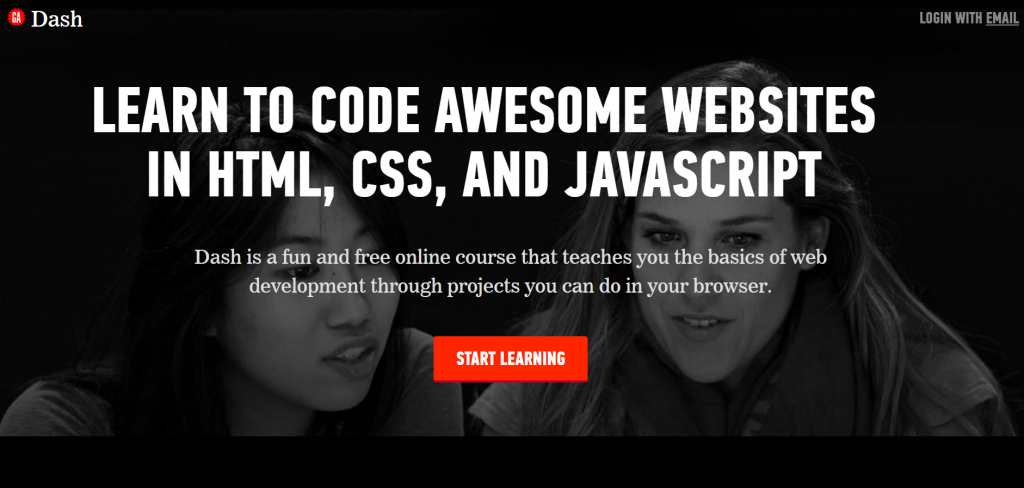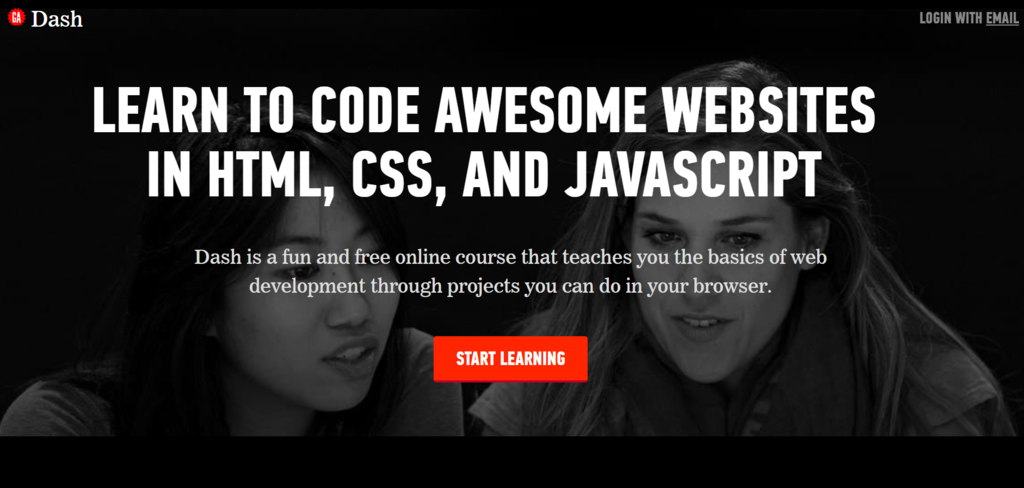 Dash stats:
Price: free
Length: 10 hours
Topics: HTML5, CSS3, and JavaScript
General Assembly is one of the best platforms with a wide range of formats, from immersive and one-week courses to on-demand learning courses.
This platform also provides award-winning instructors, both in person and online. As a pioneer in education and career transformation, General Assembly offers extensive training on specific skills that are in high demand, including web design and development.
This class provides basic HTML, CSS, and JavaScript skills to create websites with dynamic interfaces and responsive designs. It also comes with interactive lessons where you can directly apply what you've learned.
Key Features
Global networking – consult with alumni and hiring partners.
Free workshops and events – free introductory programs are available on various topics, such as social media marketing and web design.
Payment plans – apply for scholarships and installment options, which are divided into three payments.
Cons
Paid courses can cost up to thousands of dollars.
Some programs are only available in certain locations.
[SIGN UP]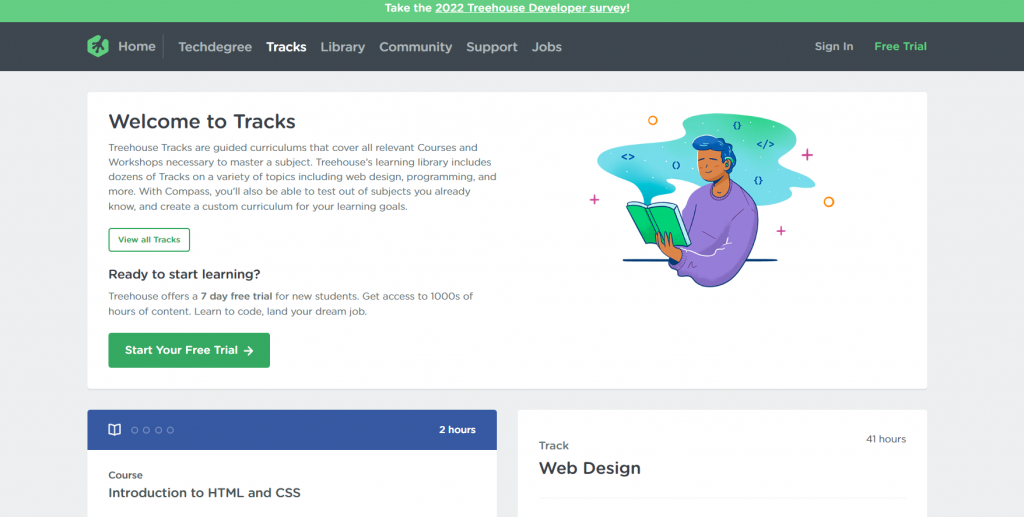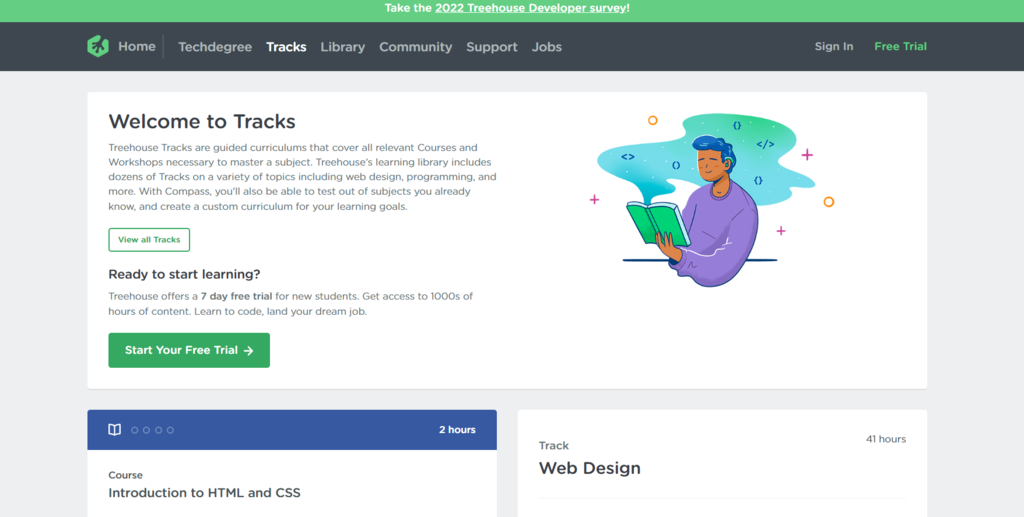 Web Design Track stats:
Price: $25/month for regular courses and $49/month for premium courses
Length: 41 hours
Topics: CSS and HTML basics, scalable vector graphic (SVG) basics, HTML tables, Bootstrap, web design process, and wireframing
TreeHouse is an educational platform that offers various web design and development courses. That's why all their programs focus on learning to code, building functional websites, and creating mobile applications.
This web design certification course will show you how to design a website space implying the basic design principles and common programming languages like HTML and CSS. You will also learn how to build responsive site design and use Bootstrap as the front-end framework to optimize site performance.
Besides the regular program, this platform provides a Techdegree program where students receive a full curriculum of TreeHouse learning. It helps students build a professional portfolio for their future jobs. The program also includes workshops, quizzes, and exclusive access to the TreeHouse Slack community.
Key Features
Interactive lessons – get practical training with hands-on instruction in a video format.
Great learning materials – cover all essential topics for aspiring web designers.
Online community – join an active community to broaden your knowledge by learning from other members.
Up-to-date lessons – learn the latest techniques to stay competitive in the job market.
Cons
Videos are not downloadable on the regular program plans.
The web design certificate is only available for the Techdegree programs, which are pricier than the regular programs.
[SIGN UP]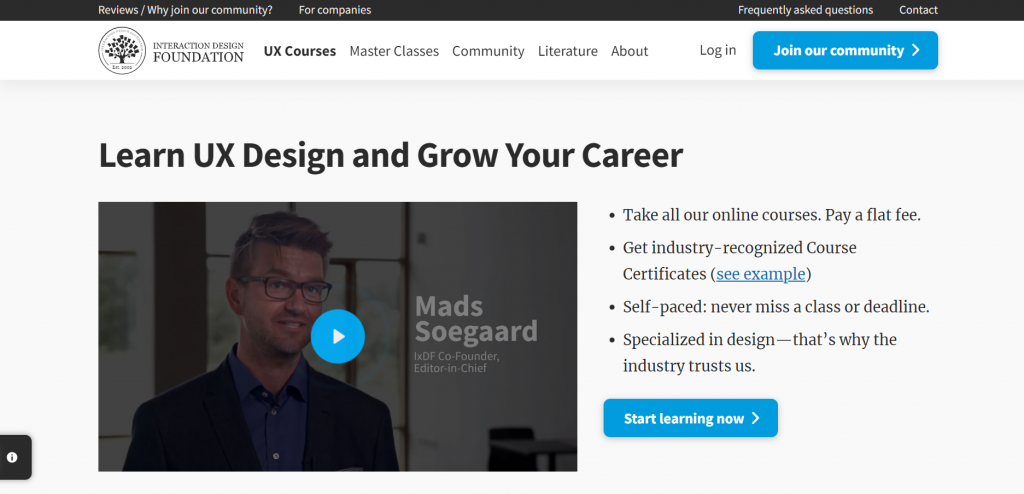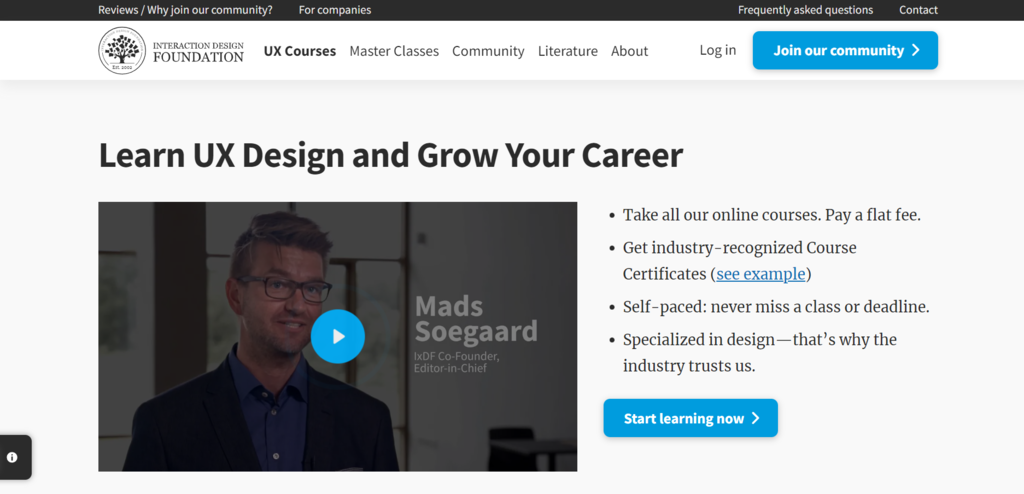 Web Design for Usability Stats:
Price: $16/month for a Professional plan and $200/month for a Design League plan.
Length: 8 weeks
Topics: web accessibility, prototyping, visual design, navigation, and usability testing
Interaction Design Foundation is one of the biggest online design schools with over 130.000 graduates. The platform features webinars and individual courses focusing on UX and UI design.
Through this program, you'll learn how to apply user-centric design choices to improve usability. Doing so has many benefits, such as helping users interact with the site and driving higher traffic.
To improve your knowledge further, you can join the discussion forum or retake the class if your score is less than 70%.
Additionally, members will get an exclusive offer from the best web design tools, such as Fluid UI and ProtoPie, which allows them to save more than $680 on these tools. This offer includes discounts, free upgrades, and free extended trials.
Key Features
Flat fee courses – get lifetime access to every program by paying the membership subscription.
In-depth learning material – choose from comprehensive UX and UI lessons for beginners to advanced levels.
Course certificate – kickstart your career with an industry-recognized certification.
Broad range of classes – many online UX courses are available, from design thinking and user research to UX management.
Cons
All courses focus on UX design only.
Each class offers a limited time for registration which might not be convenient for people with busy schedules.
[SIGN UP]
Conclusion
If you want to boost your career as a website designer, we recommend picking a web design certification course that suits your needs and goals. Compare programs by checking their learning materials, reviews, prices, and training programs or mentorships.
To help you choose, we've listed the ten best web design certification courses. Here are our final recommendations for aspiring web designers:
Best free class – Responsive Web Design by freeCodeCamp.
Best premium program – Web Design for Beginners: Real World Coding in HTML and CSS by Udemy.
Best UX and UI course – Web Design Usability by Interaction Design Foundation.
We hope this article has helped you choose the perfect web design course to advance your career. Good luck.
Frequently Asked Questions about Web Design Certification
In this section, we will answer the most common questions about web design certifications.
Why Should I Get Certified in Web Design?
Besides improving your skills, having a web design certification will prove your competence to potential clients. This can increase your chances of getting hired and boost your freelancer rates.
What Skills Do You Need to Be a Web Designer?
Aside from understanding the web design fundamentals, you'll need to know how to use design tools and have basic knowledge of programming and markup languages. This includes JavaScript, HTML, and CSS. Some projects might also require a solid grasp of UX research.
How Long Does It Take To Get a Web Design Certificate?
It depends on the course, varying from several hours to a few months. Note that shorter courses might not provide in-depth knowledge of web design.
[ad_2]

Source link